This post was published as Scene 10 of Thelma & Louise 2: Army of Darkness
FADE IN:
EXT. MORNING - The place where they were camping
The trio is sleeping, CORN begins to bloat a bit as the sun rays from the fresh
sunrise filter through the trees that are probably there. This awakens CORN.

                                CORN
            Fuck. Shit. Fuck. Damn it. Fuck. Oh my god. What the
            fuck. Holy shit. God damn it. Fucking fuck damn fucking
            fuck it. Shit, why, WHY GOD WHY? IT FUCKING BURNS SO
            FUCKING BAD HOLY SHIT WHY IS THIS EVEN A THING!? HOW
            CAN IT BE A THING? WHY AM I EVEN ALIVE? THIS DOESNT
            HAPPEN WHEN IM IN THE FUCKING SUN ALL DAY WHY DOES IT
            HAPPEN NOW? WHAT THE FUCK IS THE FUCKING DIFFERENCE?
            GOD DAMN. HOLY SHIT. MY ENTIRE LIFE IS NOTHING BUT
            PAIN. WHY GOD, WHY GOD AM I EVEN ALIVE.
            Kiiiiiiiiiilllllllllll me I BEG OF YOU. JUST FUCKING DO
            IT SOMEONE FUCKING KILL ME I WANT TO FUCKING DIE
            ALREADY JUST END IT. I WAAAAAAAAANT TO FUCKKKKKKKING
            DIEEEEEEEEEE

                                LOUISE
            What?

                                THELMA
            I remember my name, it took me like five fucking
            minutes because i was doing other things but I totally
            remember my name now and I am part of the conversation,
            hello and good morning everyone it is morning LET US
            depart on our journey once agian.

                                LOUISE
            Ok.

                                CORN
            HOW CAN YOU ALL JUST LET ME LIVE THIS LIFE OF SUFFERING.
            IS THIS WHAT MARX MEANT WHEN HE SAID THAT "THE ONLY
            ANTIDOTE TO MENTAL SUFFERING IS PHYSICAL PAIN"? MY LIFE
            HAS SIMPLY BECOME A MEDLEY OF THE TWO, THE PAIN ONLY
            STOPS SO AS TO ALLOW ME TO SUFFER MENTALLY.

They all begin to, like, roll up their sleeping bags? Y'know put away tents and
shit, whatever.

                                CORN
            I dont even have a fucking sleeping bag, whatever the
            fuck that is. You two and your crazy fucking
            consumerist products from some foreign land. I sleep
            like a prole, curled up in nothing but the sheath of
            greenery on my back. If my entire existence is to be
            pain the least you two can do is FUCKING OFFER ME A
            PIECE OF THE LUXURIOUS LIFESTYLE YOU SEEM TO BE LIVING
            REGARDLESS OF THE FACT THAT WE ARE LITERALLY SLEEPING
            IN A MOTHERFUCKING MUD PILE. But I suppose that would
            be too much to ask from you BOURGEOISIE PORKIES.

                                LOUISE
            Yes, let us depart from this mud pile in which we
            are/were sleeping and standing so as to continue on our
            quest to do the thing.

OLD MAN falls out of a tree in the background as they were all finally
departing.

                                OLD MAN
            HEy, HEY, FUCKING HEY YO! Im in this scene too! Fucking
            read thw whole fucken,,,, i mean look around, like,
            fuckeing god damn. We's all comrades in arms now, we
            know each others darkest and/or deepest ;) ;) secrets,
            you cant just leave me out of frame in a fucking tree
            like that.

It is clear at this point that irritability and tiredness are present. They
proceed anyway because adventure waits for no one.

CUT TO:
EXT. MORNING - Some trail
The group walks along a trail in some grass. CORN is obviously writhing in pain
in the back. Being a bit over dramatic if you ask me. STUART BIG pops up out of
nowhere directly behind CORN.

                                CORN
            AAAAAAAAAAAAAAAAAAAAAAAAAAAAAAAAAAAAAAAAAAAAAAAAAAAAAA-
            AAAAAAAAAAAAAAAAAAAAAAAAAAAAAAAAAHHHHHHHHHHH

                                OLD MAN
            CORN, we get it, aight, you dont need to constantly
            remind us every ten fucking seconds that you believe
            life is nothing more than agony. That's all it is,
            CORN, that's all it ever has been and all it ever will
            be. Humans have spent the whole of their existence
            struggling to grasp at any straw of meaning they could
            manage to find and all that's come out of it is a whole
            lot of existential despair, there is no meaning, at
            least none beyond whatever meaning we may choose to
            assign to life. You've clearly resigned to an
            acceptance of a meaningless universe, these whole,
            like, what, two days that you've been alive you've done
            nothing but suffer, we get it. Perhaps, however, this
            is how all being feel when first thrown into the
            tumultuous world of today, they just lack the ability
            to properly communicate these feeling. We know that
            young humans scream a lot for attention once birthed
            and we imagine this is simply because of the exhaustive
            list of necessities they have yet to fill the need for,
            but at the same time, the light of the sun, the warmth
            of the air, these are the most extreme sensations that
            baby has ever felt, before it was all a calm and moist
            darkness contained in a mother's womb, but out here,
            there's no comfort, no safety, just when you think
            you've got it all figured out the depression hits and
            you slip up, you lose everything, there is no security
            in this life. The only notable exception there is to be
            born into a position of power, a spot where people will
            worship you and protect you with their lives. But none
            of us were born like that, we're all the lower class,
            we're all struggling day by day, we can't afford to be
            bogged down by the question of whether or not any of
            this even means anything, we ought to do what we can
            just to be able to wake up the next day and maybe one
            day we will have the time, the stability, the comfort,
            just to be able to sit, relax, and ask the fundamental
            questions of the universe. What I'm trying to say is
            that it may be too early for not only you, but any of
            us to choose to end our own lives simply because we do
            not see the path to the decades in our future and we
            don't even see the path beneath our feet as we question
            whether such a thing as a path can even exist in this
            cruel world. It's your choice, CORN, do you want to
            give up before you've even had the chance to settle
            down long enough to comfortably ask the universe to
            present the arguments for its own existence or are you
            going to wait it out, see where life takes you, go with
            the flow?

We zoom in on CORN's face. CORN is torn, all the answers to all the agony may
very well be somewhere in the future, this is a lot of food for thought, but
also a massive misunderstanding as far as conversation flow, and the argument as
to whether it is appropriate at this point to break from whatever conversation
may be about to happen regarding the existence of everything just to say that
some loud frat mouse popped out of the fucking grass.

                                CORN
            Fuck, no, that's not, fucking, jesus, you could have
            said that at literally any other time, I wasn't,
            fuuuuuuuuck, god damn,,, just, fucking,,, ok, listen,
            that's all good and well but i was just screaming cuz
            THIS FUCKEN DOOD just appeared out of FUCKING NOWHERE.

                                STUART BIG
            Oh, hey, wassup? This maybe wasn't,,, uhh, the best
            time to, like, just appear, i thought the hiking,
            yknow, cuz this trail just sort of loops around some
            hills for no reason, i just figured we were all just,
            like, going for the long haul kinda exercise shit, but
            i see y'all are on some fuckin existentialist journey,
            so imma leave you to it.

                                LOUISE
            My name louise.

Before anyone else has the chance to address him, we cut to a different angle of
the group that wouldn't include STUART BIG even if he was still there but it's
more of a passive aggressive way to just make a character stop being there w/o
dealing w transition.

                                THELMA
            O,,, k,,, he brings up a valid point, this trail really
            doesn't go anywhere, like, we've just been going in
            circles n loops. We should just head in the direction
            of that village that has been visible over the horizon
            the whole time.

Time lapse of them walking from where they were to the village that probably has
a name but literally who cares.

                                OLD MAN
            Now that we are in this village that was like 100
            meters away from where we camped which if you think
            about it means we totally could have just came here and
            got a room or two and like not slept in a fucking tree
            and/or in a mud pile.

                                CORN
            Ye, but we dont have the money to be spending on things
            like lodging when theres a perfectly good field in the
            middle of nowhere to sleep in ISNT THAT RIGHT? YOU
            FUCKING--

CORN is cut off when CORN walks into a bar sign that read "The Lowered Bar," you
can tell that by lowered they mean fucking LOWERED because CORN is really
fucking short: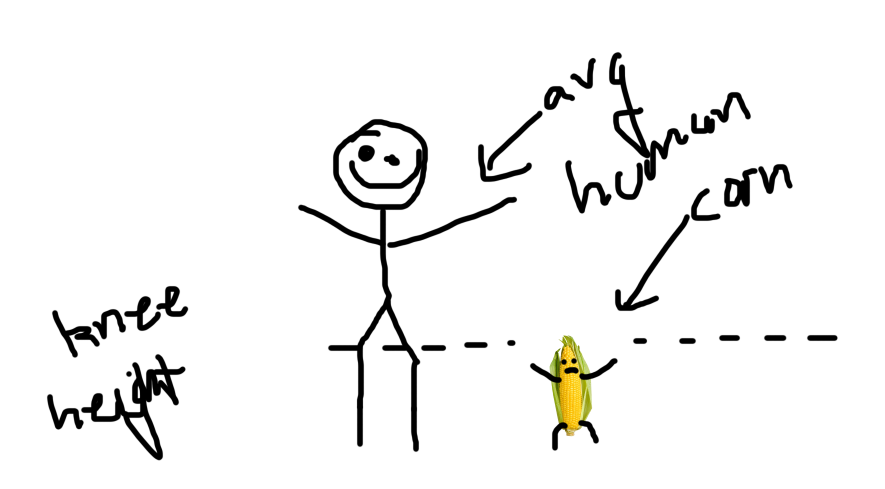 THELMA
            Hey, look, a bar, they sell alcohol, we should go
            inside because life is meaningless and i want to die.

INT. EVENING - The Lowered Bar
The place is fucking packed WALL TO WALL with pugs, tables are stacked on top of
each other with pugs sitting at each of the tables on every level, just fucking
packed, these fucking pyramids of pug filled tables, alcohol is flowing, pugs
are cheering, theres a general uppity vibe. At the actual bar of the bar we see
THE ANNIHILATOR who _allegedly_ killed OLD MAN's family.

                                THE ANNIHILATOR
            Oy, douchecunt, can i get, uhhhhhhhhhhhh, another one
            of em alcohols, a whole big fucken jug o the
            alcoholisms.

THE ANNIHILATOR fucking whips a gold coin at the bar tender who is half asleep
leaning against the wall.

                                OLD MAN
            Look at that asshole, what an asshole.

                                CORN
            Eh, whatever, pug culture is just different than our
            culture, probably.

                                OLD MAN
            SO DIFFERENT THAT ITS TOTALLY AIGHT, LIT, 100 EMOJI FAM
            TO FUCKEN KILL MY WHOLE GOD DAMN FAMILY?

                                CORN
            Idunno, maybe

It is clear that OLD MAN is not happy and is likely to start some sort of beef
with the pug.