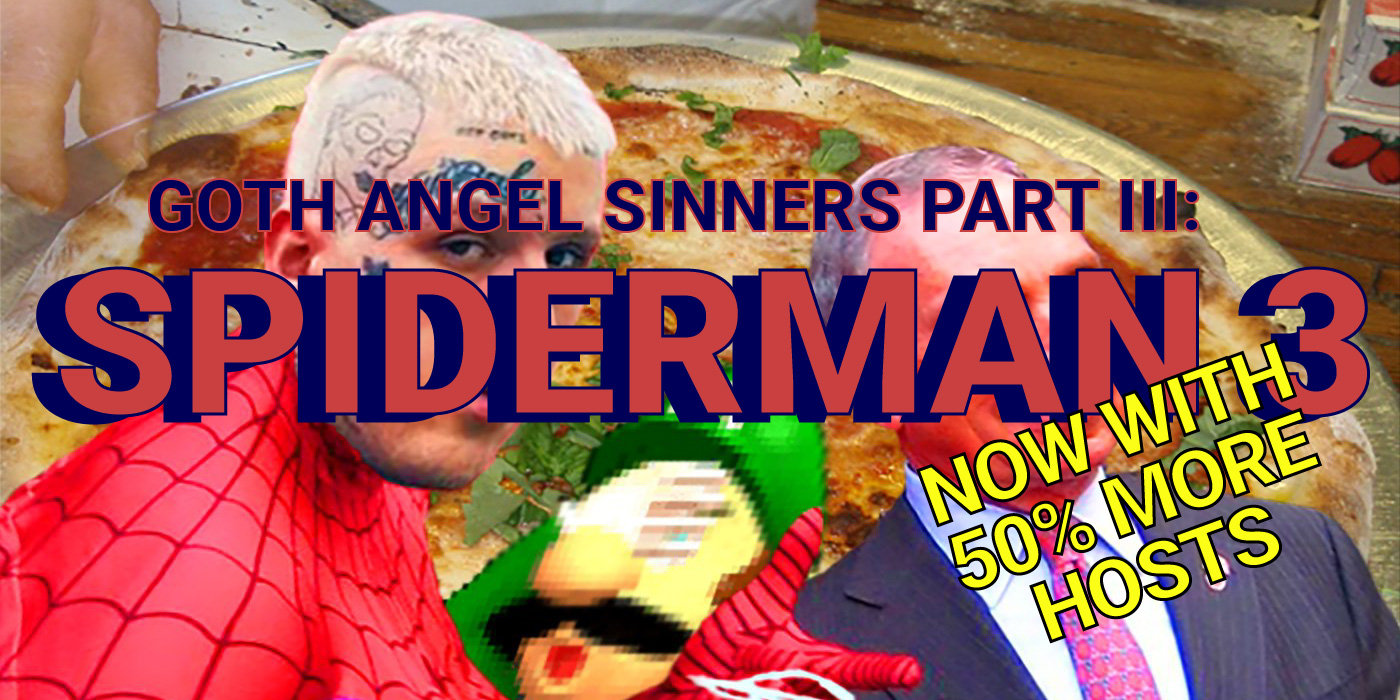 We pretend Leland has been here the whole time, but also he's very British so this might be hard. We will try our best o7
Introduction:

L: "Good Sextidi, everyone, and welcome to part three (3) of Goth Angel Sinners, a podcast about anarchy, anarchists, and anarchism, and not about Lil Peep."
T: "Presented by @trewbot…"
C: "…Χλόη (Chloe)…"
L: "…and Leland."
T: "Today we're talking about Spider-Man 3, the movie in which Spider-Man beats the shit out of his childhood friend so hard he cucks himself."

Is Spider-Man a cop?
Is the fight between Harry and Peter symbolic of the fights within transhumanism and the false dichotomy between biological changes and technological augmentations?

Peter is a "Spider"-Man, he relies on biological adaptation to be a superhero and whatnot.
Harry got Buff™ using some biological agent but ultimately relies on tools to fight Peter, requiring us to ask the question: to what extent is tool use simple "human nature" and to what extent can it be viewed as an augmentation that brings one beyond their humanity and into a sort of transhuman state?

Flint Marco turning into sand is the original Infinity War meme.
The "dancing scenes"…?

"Walk Like Tobey Maguire From Spiderman 3 down Rundle Mall"

"Tobey Maguire from Spiderman 3"

Interview with Tobey Maguire about Spider-Man 3 brought up the scenes and the darker side of Spider-Man in the movie.

"[T]hat was Peter Parker dancing, not Tobey."
"Any concern with being haunted by this role? I'm not really concerned about it." — Tobey Maguire from Spider-Man 3

Eddie Brock is an incel. This is not a question it is a statement of fact.

All of the bits where Spider-Man is being edgy, Peter is actually doing what Eddie was trying to do but succeeding.

Flirting with Jameson's secretary: she told Eddie to "go away" but with Peter she reciprocated.
The staff job at the paper: Eddie got it temporarily and under false pretenses, whereas Peter got it permanently.
Dating Gwen: Eddie claimed to have been dating her but really only went out for coffee once and she doesn't really like him; Peter doesn't really do this one well either since he takes her to the jazz cafe where MJ is working and she notices he's doing it to get back at his ex.

The Stan Lee (dead guy) cameo has him saying "you know, I guess one person can make a difference," to which I say: "we live in a society."
Opinions of the film overall?
---